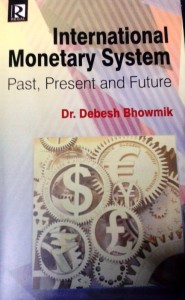 Editor y compilador: Debesh Bhowmik (*).
Autores: Varios (Dante A. Urbina -gestor de esta página- es autor del prólogo y de dos capítulos).
Editorial: Regal Publications.
Lugar: New Delhi – India.
Año: 2016.
Idioma: Inglés.
(*) Debesh Bhowmik es un destacado economista y catedrático de la India doctorado por la Rabindra Bharati University y miembro vitalicio de la International Economic Association, la Indian Economic Association y la Bengal Economic Association, donde es también miembro ejecutivo. Ha dado numerosas conferencias y tiene publicados 4 libros (Essays on International Money, Economics of Poverty, Euro-crisis and International Liquidity Problems y Asian Economic Integration) y más de 100 artículos en importantes revistas académicas.
LINK DEL LIBRO: http://dbhowmik.blog.com/2016/01/08/international-monetary-systempastpresent-and-future/
RESEÑA DE LA OBRA: En este libro, a través de numerosos artículos científicos (papers) recopilados por el Dr. Debesh Bhowmik, se aborda, la importantísima cuestión del sistema monetario internacional desde una perspectiva amplia en su aspecto económico, histórico, tecnológico, regional e incluso político en relación a relevantes tópicos como las crisis económicas, el desarrollo, el comercio internacional y las discusiones teóricas en torno a los enfoques ortodoxo (convencional) y heterodoxo (crítico). Además de la de Dante A. Urbina y la de varios otros (en su mayoría destacados académicos de la India como Asim Kumar Karmakar, Sebak Kumar Jana, Mahendra Pal, Ajoy Pandey, etc.), cabe resaltar la contribución de importantes economistas como:
– Matías Vernengo, profesor de la Universidad de Bucknell en Estados Unidos y ex gerente senior de Investigación Económica del Banco Central de Argentina.
– David Fields, profesor en la Universidad de Utah y el Salt Lake Community College en Estados Unidos.
– Carlos Aquino Rodriguez, Doctor por la Universidad de Kobe en Japón y Director del Instituto de Investigaciones Económicas de la Universidad Nacional Mayor de San Marcos en Perú.
Libro de gran utilidad para estudiantes, profesores, académicos y funcionarios relacionados con el sistema monetario, las finanzas y el comercio a nivel internacional.
CONTENIDO
Forewords (Dante A. Urbina y Carlos Aquino Rodriguez)
PART I: Economic theories on International Monetary System
Chapter 1: "The International Monetary System and the Global Financial Integration" (Asim Kumar Karmakar and Sebak Kumar Jana)
Chapter 2: "Orthodox Monetary Theory: A Critique from Post Keynesianism and Transfinancial Economics" (Dante A. Urbina)
Chapter 3: "Dollar Hegemony" (David M. Fields)
Chapter 4: "Dollarization" (David M. Fields and Matías Vernengo)
Chapter 5: "The TPP and the New International Trade Order" (Carlos Aquino Rodriguez)
Chapter 6: "Quantitative Easing and Financial Instability: From Shadow Banking System to the dealer of the Last Resort" (Arturo Chian)
Chapter 7: "The IMF Conditionality: Theory and Application in India" (Mahendra Pal)
Chapter 8: "The International Financial Architecture: Past, Present and Future" (Somnath Karmakar)
PART II: Global Financial Crisis and Its Impact
Chapter 1: "Hegemonic Currencies During the Crisis: The Dollar versus the Euro in a Cartalist Perspective" (David Fields and Matías Vernengo)
Chapter 2: "Financial Crisis and Impact on Indian Economy" (Ajoy Pandey)
Chapter 3: "Did Austrian Economists Predict the Financial Crisis?: Critique of the Austrian Business Cycle Theory" (Dante A. Urbina)
Chapter 4: "Global Financial Crisis: Causes, Trends, Consequences and Remedial Policies" (Sukanta Sarkar and Suman Kalyan Chaudhury)
Chapter 5: "Impact of Global Economic Crisis on Indian Economy" (Suvrangshu Pan)
PART III: Regionalism and Monetary System
Chapter 1: "Re-examining the SDR's Role in the New Context of Today's Globalized World" (Susmita Mitra and Amrita Saha)
Chapter 2: "Framework of Monetary Policy in the Region Under SAARC" (Sourav Kumar Das and Kishor Naskar)
Chapter 3: "Does BRICS' New Development Bank Matter?" (Tapan Purkait)
PART IV: International Trade
Chapter 1: "Future Market and Inflation: An Econometric Investigation into Metal and Energy Futures" (Chinmaya Behera)
Chapter 2: "Foreign Trade Scenario of India and Bangladesh: An Empirical Study" (Debjani Mitra and Sudipta Sarkar)
Chapter 3: "India's Export Efficiency and Economic Growth During Pre-WTO and Post-WTO Periods: An Approach to DEA" (Dipika Basu and Arun Kumar Nandy)
Chapter 4: "A Detailed Study of Changing Foreign Trade Pattern of India Before Pre-Reform Liberalization Era: Factors and Cases" (Syed Shahid Mazhar, Anisur Rehman and Farhina Sardar Khan)